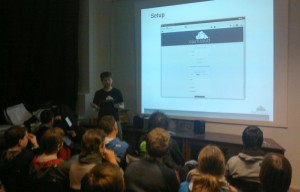 On Friday evening, more than 50 people followed the summoning to C-Base in Berlin in order to celebrate the ownCloud 5.0 release, learn about new features and getting to meet some of its makers.
ownCloud server engineer Arthur Schiwon kicked off the talk series with an overview of ownCloud 5.0 features. Only a few minutes after he started, we had to interrupt the talk – the room had gotten too croweded, so we removed some of the desks and sqeezed in another two rows of chairs.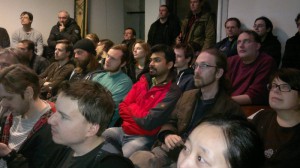 Next up was Sam Tuke. He outlined the new encryption system and detailed on how it works with sharing, something the old sharing module fell short at.
After Sam had taken a lot of question from a very interested audience, it was about time for some fresh air and a slice of pizza, kindly sponsored by ownCloud Inc.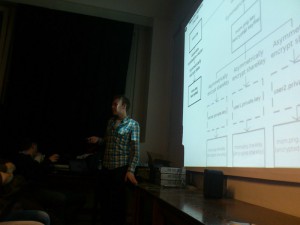 After all pizza slices were gone, I concluded the series of talks presenting the ownCloud clients for Android, iOS and Desktop, detailing on new features in the next versions, followed by lots of questions from the audience.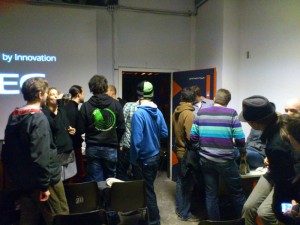 Finally the three of us as well as Georg Ehrke of Calendar and Contacts fame, who had joined in later, engaged in busy group discusions with the visitors. This way we got to talk face to face with enthusiastic fans, new users and (soon to be) new contributors.
Thanks everyone for joining in. It was an awesome night!