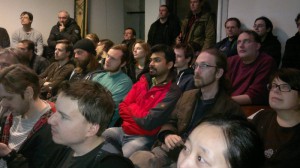 (Deutsche Version drüben bei Arthur)
With the final release of ownCloud 6 imminent, it is time to celebrate!
This time, BeLUG, who is also running an ownCloud installation for their members, was kind enough to host the Berlin release event. We'll have short talks by both developers and admins, free pizza and beverages at affordable prices.
Talks (~20 min each):
ownCloud 6 Tour — Arthur Schiwon, ownCloud
Improvements in ownCloud Client 1.5 — Daniel Molkentin, ownCloud
ownCloud @ BeLUG, an Admin Perspective — tba, BeLUG
Coordinates:
Please give a short shout in the comments if you want to join us.
See you there!
PS: There will be parties in other places as well: