ownCloud @ FrOSCon 2013

Bjoern and I attended FrOSCon, the Free and Open Software Conference, a major FOSS-Event in Germany, which took place August 25th and 26th.
We had a booth, showing off ownCloud, as well as the Beta of the Desktop Client 1.4.0, and giving away leaflets, pins and t-shirts. The huge interest reflected in the fact that we didn't even get to take a picture if the booth. If you have one, let us know ;-).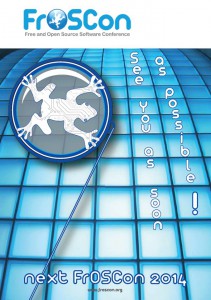 The traffic at the booth stood proof to the vast interest in ownCloud: People literally queued up to ask questions or voice suggestions, especially after Bjoerns talk in the main lecture hall, which was well received and will shortly be available online.
Next to discussing with visitors, many of which were already actively using ownCloud, I also got to hack and discuss with some people like Domme, of Tomahawk fame, this resulted in first steps towards a Qt 5 port for Mirall, and concrete planning steps towards a file manager integration, which is scheduled for ownCloud Client 1.5. We're looking forward to FrOSCon 2014!
Full disclosure: I am a former FrOSCon organizers, and contributed to the Video Operations Center this year.